Any time I make a curry or some other Indian food, I do not feel the dish is complete unless we make Naan to go with it. I created this Naan recipe which requires no yeast because we do not want a lot, and we do not want leftovers.
One thing I know from my Indian friends is that stuffing naan with garlic or onions is delicious, but a lot of work. This recipe is simplified and by adding some spices to the dough, you end up with a vivacious taste and you did not have to do a lot of extra work.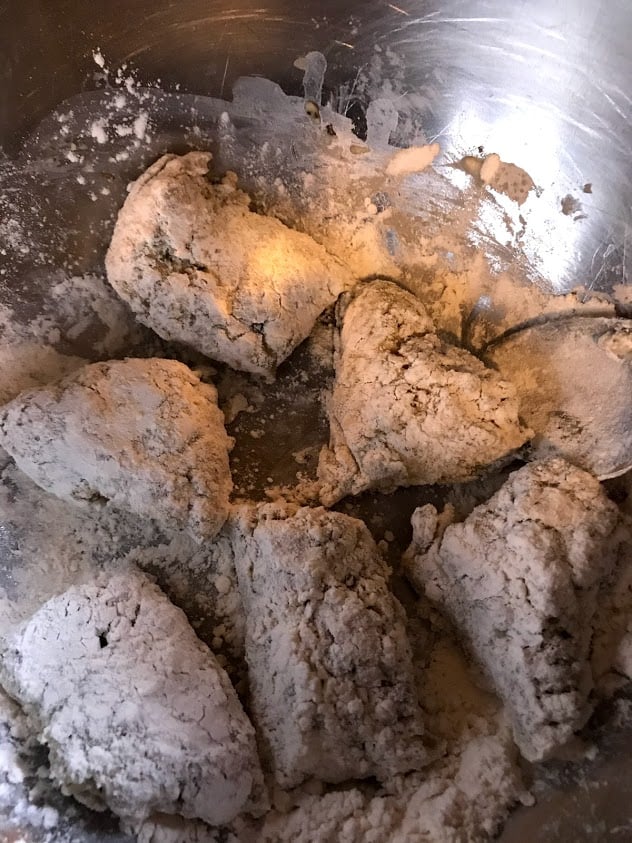 One trick I have found for making excellent naan is to roll out the dough as thin as you can. This means use very small balls of dough and flour them well before you start to roll them. Pictured here I have left the dough balls resting and covered in a light dusting of flour, so that when I start cooking them I can immediately roll and cook easily.
Traditional Indian Food
You might be asking yourself how traditional this naan is. I have had naan made by excellent Indian cooks from India, and their naan was better. But their naan was also probably two or three times the calories. I like to make food that tastes great, feels cultured but does not destroy my diet for a week. When I have had naan made by Indians, it has been basted in gee and filled with delicious stuff like potatoes. So good!
This naan recipe is good for someone who does not want to use yeast or gee and does not want a lot of it.
One thing you will notice in the naan image above is that some flour coats the outside even after browning. As I flip the naan, I add a very light layer of butter to the outside of the naan to add flavor and get rid of the flour that might be there.
Which Indian Food Gets Naan?
I have no idea if certain Indian dishes do not get naan. What I do know is whenever I have an Indian dish that has a sauce or a curry gravy I need naan to help soak up all that flavor and help me enjoy the dish so much more.
I eat naan with the following Indian dishes regularly
Turkey Curry
Chicken Tikki Masala
Various lentil dishes
As you can tell, that list is limited and I am no Indian chef, but I have some dishes I enjoy making and this is an excellent bread to go with it. This same recipe for Naan can go with Mediterranean and Middle Eastern dishes as well.
If you are wondering about the yeast, the reason I use this recipe is that it is faster to make this naan and I do not always keep yeast in the house. Searching for naan recipe no yeast is a very common thing that people are looking for because I am sure I am not the only one who does not have yeast around all the time.
Print Recipe
Naan Recipe – Small Batch, Big Taste, No yeast
Naan is the Indian version of flatbread. It goes with many Indian dishes. This version of Naan is made with no yeast and is intentionally a small batch so you do not have leftovers.
Ingredients
1

cup

all-purpose flour

1

tsp

Sugar

1/2

tsp

Salt

1/2

tsp

baking powder

1

tsp

olive oil

1/3

cup

Milk

Butter

1

tsp

Garlic Powder

1

tsp

Onion Powder

1/2

tsp

Black Pepper

2

tsp

Dried or Fresh Cilantro

chopped
Instructions
Combine all dry ingredients, and whisk well together. This includes spices

Create a well in the middle of the dry ingredients and add the milk and oil. Mix until it forms a ball. Put on the counter and knead until very smooth and elastic. This takes at least 5 minutes . Add flour if necessary

Let the dough rest for 10 minutes.

Divide into six even balls and lightly coat with flour again.

Heat a skillet over medium-high heat. Roll one piece of dough until very thin. Smear a small amount of butter on pan before each piece. One at a time, cook the naan for about 90 seconds, or until parts are browning well, on each side. When they are done, you can brush them with butter. Especially helpful if they have a bit of flour cooked on them.
Notes
This naan is smaller, and we follow this Naan Recipe because we do not have leftovers and we do not overeat it.  If you want more, simply double everything.
What did you think of this Naan Recipe with No Yeast?
If you made this recipe please let me know how it turned out in the comments below. I am always very happy to get feedback from people who try our recipes.