I love lasagna but we have a rule. Christmas day only. We call it Christmas Lasagna. However, I thought if I could replace some pasta with vegetables, we could eat it more frequently. Substituting layers of lasagna pasta are actually easier than you think. The trick I found, is to use the actual pasta on the top and bottom layer, but the middle layers can be lasagna noodle substitutes, and people will really not notice.
So the first thing I did before creating this vegetarian lasagna recipe with pasta substitutions was to look around at what was already out there. What I found when I searched for sweet potato lasagna recipes seemed more like a sweet potato casserole and less like lasagna. So I just read over a couple of options and then came up with my own pasta alternative, while still using some pasta for the top and bottom so that the lasagna really feels like it is real.
This was risky because it was for my daughter's birthday, and I was winging a recipe I'd never made before. Her requirements are rather odd because she is 90% a vegetarian (prefers it, but sometimes eats meat for protein) and she tries to eat very healthily, which means low quantities of refined pasta.
What we ended up with is lasagna with top and bottom real pasta, and two layers in the middle where sweet potatoes are the pasta replacement. By lightly salting the sweet potatoes at each layer with a light amount of coarse salt, the layers ended up being sweet and salty, instead of just sweet.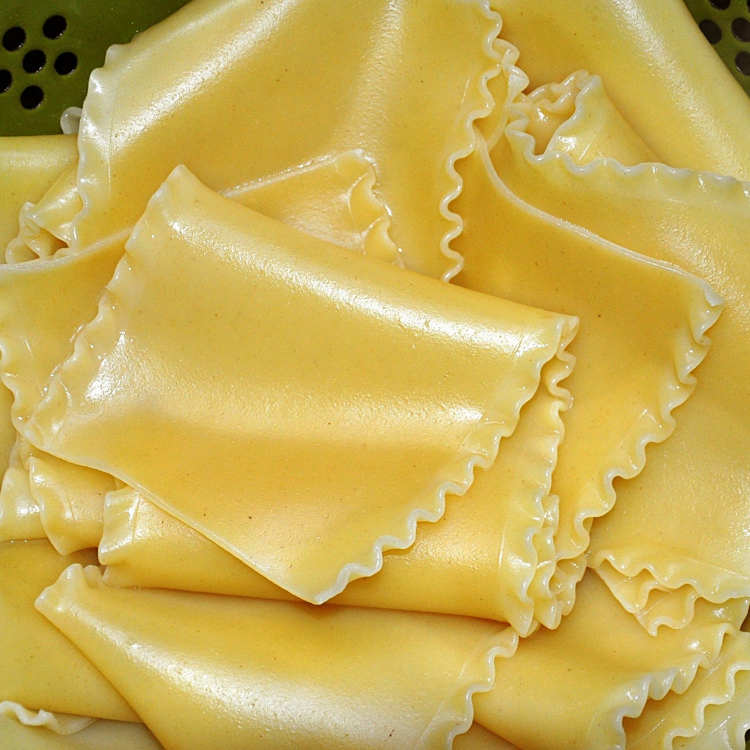 If you do not want sweet potatoes, I am sure you can think of many other lasagna pasta substitutes. For example, zucchini would work, squash would work, eggplant, thinly sliced shiitake mushrooms, corn tortillas, and even regular potatoes (although more healthy???) are all possibilities as a lasagna noodle substitute.
Whichever pasta alternative you choose for your lasagna, the key is making every layer tasty and stacking it well. It will all bake together beautifully. And since we use real lasagna pasta on the top and bottom, there is a chance no one will even notice that the center is actually layers of vegetables.
The good news is, this being my daughter's birthday dinner turned out great. She said it was the best lasagna she has ever had. I would not go that far, but I am more partial to it billed with meat sauce and mushrooms. However, for a more healthy lasagna with vegetable substitutes for more than half the pasta, it was surprisingly good and having a second piece was guilt-free.
Just a warning on the pictures, I am using stock photos because I did not take any during the first round of making this dish. Trust me, the layers looked great and the only time you really noticed the sweet potatoes is when you would eat one layer and they would be exposed below it. When you actually look from the side at a cut slice, it looks identical to lasagna full of pasta, and not some special pasta alternatives.
Print Recipe
Lasagne with Pasta Alternative
This lasagne recipe is health conscious but only 50% – by using lasagne pasta on the top and bottom of the dish, but having pasta substitutes in the middle, you can have the best of both worlds while reducing calories and carbs.
Equipment
9" x 13" Baking dish

Large pot to cook pasta
Ingredients
6

Noodles

Lasagne

1

Jar

Favorite Spaghetti Sauce

1

Leek (Lower half only)

washed and finely chopped

3

Sweet Potatoes

Peeled and Thinly Sliced

1/2

Red Bell Pepper

diced

4

Mushrooms

thinly sliced

1/2

Yellow Onion

15

oz

Ricotta Cheese

1/2

cup

Mozzarella Cheese

shredded

4

tbsp

Green Pesto

2

tsp

Olive Oil

1

tbsp

Butter

Salt to Taste
Instructions
Boil water with salt in large pot, add Lasagne noodles and soften. Do not over cook – they will finish cooking in the oven.

While boiling water, slice up your leeks, mushrooms, onion and dice your red bell pepper. Saute with butter until soft.

In large bowl, whisk ricotta cheese, pesto sauce, and sauteed veggies. This will be filling

Peel and then slice the sweet potatoes. 1/8th inch thick or thinner.

Lightly oil baking dish, bottom and sides.

Lightly cover bottom of dish with spaghetti sauce

Layer 3 noodles, overlapping slightly

Then cover with 1/4th the ricotta, then light sauce, layer light mozzarella then a layer of sweet potatoes

Lightly salt each layer of sweet potatoes as you layer them, repeating 2-3 layers total

Top layer add the remaining 3 pasta. Tuck them in the edges. Then sauce them and add a healthy portion of mozzarella cheese evenly. Cover with foil.

Bake covered for 50 minutes. Bake on a cookie sheet so juice does not spill over into oven.

Carefully remove foil and make an additional 10-15 minutes at 400 degrees until the top is brown. Let cook for a few minutes, and slice 3×4 squares and serve.
Notes
The sweet potatoes will not be overly sweet, but if you want to use zuccinni instead it would be more of a neutral flavor.
I used store bought sauce and pesto (Aldi) but you can make it from scratch if you so desire.
There are many substitions you can make in this dish. Here are some ideas.
Substitute green onions for leeks
Substitute cheddar for mozzarella
Substitute zucchini as a pasta alternative
Use herbs and garlic in place of pesto
Make your own sauce with tomatoes, olive oil, onions, and spices.
Add carrot to leeks to add more variety of nutrient-rich vegetables.
Let us know how you liked the recipe and let us know how which lasagna pasta substitute you used, and how did it turn out?