There is a huge advantage to this Instapot fried brown rice recipe. You make the rice in the Instapot in advance, and then you can finish it in a wok or pan while you are using the Instapot again to cook your protein to go with it. Very handy and you can make a lot of great meals this way.
While I have listed meat bases, such as chicken broth and diced ham, both are optional. The chicken broth can be replaced with water and a pinch of salt, and the ham can just be left out. My kids don't eat a lot of meat, but they will eat this with a small amount of ham as well as chicken broth, so I like to make it that way for them.
Another thing you can optionally do is make it with more oil, and it will fry up more crispy. I have a very nice wok with a non-stick surface and that allows me to use less oil and try to keep the dish more healthy.
While fried rice is often served with an Asian dish, this is very good with many other meals as well. Even just a nice sandwich and the fried rice on the side, for example. My only limitation is that I do not like to mix Asian rice with Mexican main dishes. There are plenty of good Mexican rice dishes as well, so mixing the different cultures in the same meal seems odd.
The time on this when frying is also something that could vary a lot. You want to crisp up the rice so having a high heat is good, but not so high that the onion and garlic burns. Keep a close eye on it as burnt garlic will have a bitter taste.
You might wonder if you can actually saute the fried brown rice in the Instapot after you finish cooking it. Probably, but a nice big wok can cook it faster and more evenly as it has more hot surface for the rice to touch. Also, I like to have some chicken going in the Instapot while I fry the rice and finish the dish.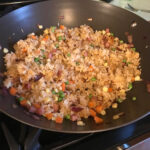 Print Recipe
Instapot Fried Brown Rice – Finish in Wok
This fried brown rice recipe is started in Instapot and finished in wok or pan, freeing up the Instapot to make your meat dish to go with it. It can be made vegetarian or with chicken broth and ham cubes. Either way it is delicious.
Equipment
Instapot

Wok or Large Frying Pan
Ingredients
1

cup

Brown Rice

Rinsed

1

cup

Water, Veg Stock or Chicken Stock

low sodium

2

tbsp

Olive Oil

4

tbsp

Soy Sauce

2

Cloves

Garlic

1/2

Cup

Peas and Carrots

Frozen

3

Green Onions

Diced

1

tbsp

Ginger

Minced

1

tsp

Rice Vinegar

1/2

Slice

Ham – Optional
Instructions
Add one cup of rinsed brown rice with one cup of water or chicken stock to Instapot. Add a dash of olive oil and a pinch of salt if using water. Cook for 18 minutes

Combine soy sauce and ginger and let soak

As rice cools, heat pan or wok with olive oil

Add white part of green onions and garlic to wok to cook, along with ham if you are using it, until they begin to color

Add rice to wok and fry for 5 minutes, getting the rice crispy. Stir occasionally

Add soy sauce mixture, peas and carrots, rice vinegar and green part of green onions. Continue to cook another 3-5 minutes

During frying of rice, you can be using Instapot to prepare your protein to serve with fried rice.
Video
Notes
This dish can be varied many ways, such as adding different vegetables, adding sriacha or red pepper flakes for heat, or adding egg to fried rice to enhance protein level.
If you want, you can even do the rice far in advance. Cold rice actually fries better, but I rarely plan that far in advance. But if you know you are going to make this recipe the next day, go ahead and prepare the rice and have it chilling in the fridge overnight. As you add it to the wok, break it up with your hands or a spatula.
Did you make this Instapot Brown Fried Rice Recipe? Let us know how it went below in the comments.