Appear In GR8TR Today Magazine
GR8TR Today Magazine features organizations and people
who make communities and individuals lives better – GR8TR.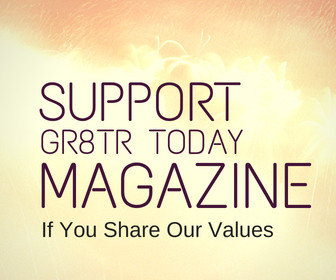 We get support, and in turn support, people and organizations who share our principles:
Focus on solutions for the future, not complaining about current or past issues.
Never discriminate based on gender, race, culture or sexual orientation and always discriminate against people and organizations that do not share the same principle.
Eliminate bullying, trolling, fear-mongering, fraud and coercion.
Build a future where people live a better lifestyle and enjoy more luxury while requiring fewer hours of unfulfilling work.
Improve individually and as a group, to be more like Star Trek and less like Mad Max in the future.
Reduce and eventually eliminate unnecessary products, services and systems that do not align with goals of making the world GR8TR for everyone.
Help people enjoy life more, stress less and live a healthy life.
If you share these principles, then you are invited to be seen in GR8TR Today Magazine.
How Does It Work?
We want to work with people who support making the world a better place.  If this is you and/or your company, please contribute below or contact us for consideration – the best way to contact us is to subscribe to our email and then reply.
$99 / month – Sidebar banner ad along with an email interview with you, published in magazine if meets our guidelines.  Can include phone, link to website and contact information.  Includes PDF on how to promote it to maximize your visibility and results. We promote it to be seen by more than 5,000 targeted views per month.
$299 / month – Banner and sidebar ads as well as full feature about you or your business, seen by over 25,000 targeted views each month who live around your business, if content and products meet our guidelines.
Cancel Any Time 
Cancel at any time with a simple email to us or via Paypal.  Full refunds (up to one month) if your content, product or service is deemed unsuitable for our publication.  Not sure about your topic? Contact us.
We reserve the right to decline any sponsorship for any reason.