OMG this is so good. Disclaimer: We need a lot of lentil and vegetable soups, which are good. However, changing it up and making this Butternut Squash soup recipe with the Instapot is the new family favorite because it is so rich and creamy, and has sweet and savory elements to it that make it incredible.
The first time I made it, I added more spicy elements, and we all loved it but it was a bit too hot for my wife. The next time, I made it without as much spice and the recipe turned out great as well, but leaned a bit more to the sweet side. Those of us who liked the more spicy soup better just added a touch of Siracha and we were all happy.
Some people might see this and think they are indifferent to squash. I know that was my first impression when looking at other recipes for squash soup. However, the apple, onion, carrot, and fresh garlic take you on a whole new flavor adventure.
One of the things that is amazing about this squash recipe is that it is so few steps and is done so quickly. Basically, you just peel the items, chunk them up into cubes, cook them in the Instapot for 8 minutes, and then blend and add sour cream. When you taste it, you will be surprised at how good it is and how easy it is to make.
A lot of recipes will have steps like "brown the garlic and onion…." Not here. Just toss it all in the Instapot with two cups of vegetable broth and you will be ready for a blender or food processor after 8 minutes of cooking. That is 8 minutes after fully heating and pressurizing, of course. Probably about 15 minutes total time.
The #1 hardest thing in this Butternut Squash soup recipe is definitely the time it takes to peel and cube the squash itself. I use a nice, big peeler and peel the outer skin off of the squash. Then I cut the ends off and cut it down the middle, long way. Then I use a spoon to remove the seeds from the inside. Then, on a large cutting board with a large, sharp knife, I cut in strips and then across the strips of squash into cubes. The 8 minutes cook it well, so you can leave them chunky and they do not all have to be a uniform size.
There are two things that make this squash soup Instapot recipe special. The first is the creaminess of the soup. No one could believe that there was no butter in it, because it has a buttery, creamy feel to it. Also, the combination of sweet and savory tastes make it unlike many other things you have had. It is so good, I am sure it is the only soup I have ever had three bowls of on the same day.
Butternut Squash Soup Recipe for Instapot – Tips For Success
A couple of tips for preparation.
Peel the skin off of the apple, or you might end up with some small bits of apple skin that take away from the creaminess of the soup.
Let the soup cool a bit before adding the sour cream.
When using a blender, use a towel to hold the lid on in case of splatter that might be hot.
Modify the recipe by the size of your butternut squash. A large squash requires a larger apple and onion, or two small of each, to get the flavors balanced just right. While it does not require an exact ounce ration, the flavor can change significantly (but always yummy) with different balances of ingredients.
If some people like the squash soup recipe spicy, and others do not, only add a tiny pinch of Cayanne in the soup and then those who want it more spicy can add more, or add Siracha to it, and it tastes great.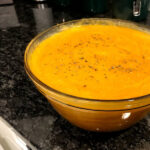 Print Recipe
Butternut Squash Soup with Instapot
This fast, easy butternut squash soup recipe is ready in about 30 minutes with the Instapot.
Equipment
Blender or Food Processor

Instapot
Ingredients
1

Whole

Butternut Squash

Peeled and Cubed

4

Cloves

Garlic

Peeled and Diced

1

Green Apple

Peeled, De-Cored and Diced

1

Large Carrot

Cleaned and Diced

1/2

TSP

Salt

2

Cups

Vegetable Stock

1/2

tsp

Ground Black Pepper

1/4

tsp

Cayanne Pepper

More of Less to taste

1

Pinch

Cinnimon

1

tbsp

Sour Cream

Heaping
Instructions
Clean, Peel and Cube all Vegetables

Add vegetables, stock and spices to Instapot and mix

Cook manual for 8 minutes (will take longer to preheat and pressurize)

Once done, carefully release pressure and then in small batches, blend in a food processor or blender until smooth. Add to large bowl.

Add sour cream into blended soup and stir until incorporated. Add dry or fresh basil to top to make pretty.
Notes
Add more Cayenne or Siracha to individual bowls to give it more of a kick for those people who like it spicy.