Keeping your home clean can be challenging, especially in cooler weather.  Most of the year, you are tracking in leaves, snow and slush, dirt, mud, or germs from the outside.  Keeping your home clean throughout the week takes more than cleaning once a week.  It takes
The number one idea for keeping your home clean with less effort is to lean speed cleaning techniques. This is when you can quickly clean something in a couple of minutes or less. These activities do not make deeper cleaning unnecessary, but they do keep the house cleaner, longer and reduce the need to deep clean as often. There are many websites where you can learn speed cleaning techniques, and you can easily learn how to keep your home exponentially cleaner in a few minutes a day.
The second thing you can do to keep your home cleaner is to have a place for everything. Shoes should be taken off and all kept in a mud room or a closet. Coats should all go in a closet. Books should go on shelves, so they do not build up. The more clutter you have, the more dust and dirt will build up around stuff. Having a minimal look to your coffee tables and counters will make it easy to dust and wipe things down.
A third recommendation for keeping your home cleaner is having high-quality floormats in the home at all entrances, both inside and outside.  Shoes are what track in the most outside grime and wiping your shoes on a good floormat will greatly reduce the rest of the home needing cleaned as often.  Keeping wet or snowy shoes on a rubber backed floor mat will also protect your flooring.  Even ceramic tiles might have grout come out if salty snow weakens the grout when shoes are left to defrost directly on your floor.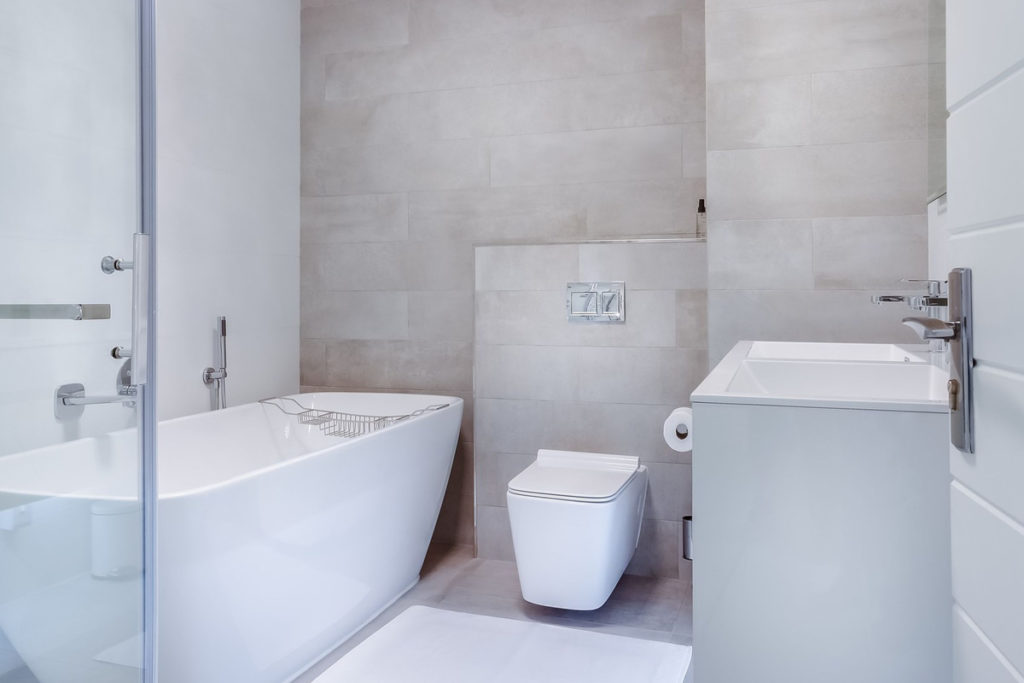 As our fourth suggestion, we recommend keeping your cleaning tools and supplies handy to make it easier to keep your home clean daily. If you can buy a broom hanger and put it inside of the door but with easy access, you can quickly clean your floor each day. If you have a bucket with wipes and cleaning supplies handy, it is faster and easier to wipe down a sink.
Tip five for keeping your house clean is to make sure your garbage can is full every week. Often, you may have a half full garbage can on garbage pickup day. Take a few extra minutes to find things in your home that you will never use, and have low or no value, and throw them away if you cannot donate it.
Our sixth recommendation for maintaining a clean environment is your basement.  Especially if you do laundry or have other reasons to go down there frequently, if you have a basement that is wet, mildewy, or dirty, you are tracking dirt and allergens back upstairs each time you come back up.  Getting your basement waterproofed, or even hiring someone for basement finishing is a great way to clean up the space, create better storage space and make your whole home cleaner.
If you still need more ideas, our seventh strategy for a cleaner house is to not ignore your garage, porch and shed. These areas can get dirty and if you do not clean them regularly, you will track in dirt from them. This could even include things like oil or other fluids from your car. Things like antifreeze can taste good to a pet and make them sick, maybe even killing them.
And lastly, do not forget if you want to keep your home cleaner, you can keep your pet cleaner. Brushing and bathing your pets more often will cut down on hair, dust and dander that your pet can generate and leave all over your home. Having them groomed and bathed more frequently will reduce this and make cleaning your home faster and easier. Also remember to wipe off their paws after a walk if it is wet or snowy, before releasing them to run about the house.
All of these things, along with having a regular cleaning schedule and habit, will keep your home sparkly clean and create a much healthier environment for your family. And it should not take long if you plan ahead and do things more regularly.