We do not keep a lot of sweets in the house, which makes this 5-minute chocolate cake recipe a lifesaver when someone decides they have had a hard day and need a cake. (It happens)
The first time you make this, it might take you seven minutes. But once you have mastered the steps, you can get it done in as little as four minutes. Much to the shock and surprise of the person who said, "Hmmm, some cake sounds good" just a few minutes before.
Chances are, you have all of these ingredients in your kitchen already. The only one I sometimes run out of is the cocoa powder. However, once I realized how handy this 5-minute chocolate cake recipe is, I now make sure I do not run out.
While this is traditionally a mug cake that people eat straight out of the mug, I prefer to lightly oil the mug and then remove it from the mug when it is done cooking so that it is like a piece of cake on a plate with chocolate syrup and whipped cream on top. The extra 15 seconds make it much nicer.
Some things that are very important when making this 5 minute chocolate cake recipe from scratch are as follows:
Do not overcook it – 60-90 seconds is all you need. Stand there and watch it. When it poofs up, wait a couple of seconds and then stop the microwave.
Use a mug that is big enough for it to rise in.
Put a paper towel under the mug cake as it cooks, so that if it does overflow, it will not make a big mess.
This chocolate mug cake will be bigger than you expect, so you can divide it in half after removing it from the mug so two people can share, if both people just want a small amount.
Peanut butter can be substituted for the chocolate syrup.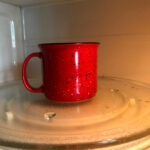 Print Recipe
Fast Microwave Chocolate Cake
Traditionally these are called mug cakes, but I use this recipe for those evenings when someone decides they want a piece of cake, even though we do not keep things like that in the house. You can make this in five minutes if you have everything handy.
Ingredients
1/4

Cup

all-purpose flour

2

tbsp

unsweetened cocoa powder

1/4

tbsp

baking powder

2

tbsp

granulated sugar

Add more if you want sweeter

1

dash

salt

1/4

cup

+ 1 tbsp. milk

2

tbsp

vegetable oil

1

tbsp

chocolate syrup

1

dollop

whip cream
Instructions
Lightly oil the inside bottom and sides of the large, microwave-safe mug

Add dry ingredients, stir to blend well

Add milk and remaining oil, mix until no clumps

Put mug on paper towel in microwave.

Microwave on high for 1 minute to 90 seconds – keep an eye on it. It will expand and then be done.

Carefully use knife to go around edges. Dump cake onto dessert plate. Add chocolate syrup and a dollop of whipcream.

We sometimes make one and split between two people.
Notes
Microwave temps vary.  The easiest thing to do is to keep an eye on it.  Once it poofs up, after a few seconds it is done.  
This recipe does not include baking soda. Every time I try to make it with baking soda the flavor is not as good. Sometimes it is very bad. Stick to baking powder and it will turn out much better.
Another option is to make it with an egg instead of baking powder or baking soda. This has been very good sometimes. However, if you cook the mug cake just a little too long, the version using an egg does have a bit of an eggy taste. You have to be very careful. The good thing about using an egg though is the protein makes it a healthier option for someone who eats eggs.